FIFA World Cup 2010: Landon Donovan's Golden Goal a Perfect Ending for Yanks
In a dramatic and thrilling climax that should already have its own film rights optioned to Hollywood, the United States not only defeated Algeria 1-0 in stoppage time, but they also vanquished the demons of Koman Coulinaly and past perceptions of American futility in the world's biggest sport.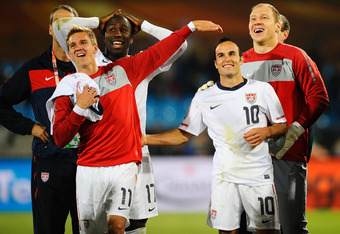 The U.S. needed this game in the worst way, and to put it mildly, anything less than advancing from group play would have been a big disappointment on this day of reckoning for U.S. soccer.
Ironically, both English and American soccer fates were intertwined on this day in South Africa, as both teams needed to win the final matches in Group C. The Three Lions did their part. Now, it was the Yanks' turn.
The game was very free-flowing and the Desert Foxes, although winless to that point, proved to be a very dangerous and sly opponent. They laid constant siege on Team USA goalie Tim Howard with some well-placed strikes.
And what U.S. soccer game would be complete without another Yankee goal being disallowed? This time, Clint Dempsey was charged with being offsides in the penalty box
—
at least
this
referee gave a valid explanation for such an egregious call.
With former U.S. President Bill Clinton in attendance, Donovan seized the moment with a loose rebound from eight meters out. He not only scored the biggest goal in American history, but he also elevated a soccer-neophyte country like the United States into the knockout round.
To see the high-fiving reactions from soccer pubs all across the States and with the burgeoning success of Team USA on the lips of every American is truly exciting.
The United States does not have to worry any more about Robert Green, Koman Coulinaly, or controversial phantom calls. They just have to worry about Ghana.
Tune in this Saturday at 2:30 p.m. (EST) on ABC.