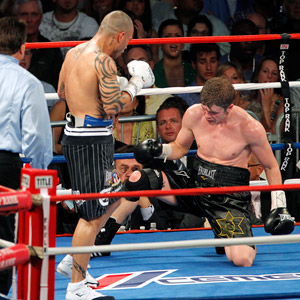 Hype couldn't help Foreman in ring
Three days before the Miguel Cotto-Yuri Foreman clash at Yankee Stadium, we asked Foreman if it was possible that the press had hyped the rabbi-in-training angle to kingdom come, if he considered that maybe his superlative backstory was making pundits overlook the fact that his résumé wasn't sterling.
So many fightwriters and fans were picking the WBA 154-pound champion to upset three-time titlist Miguel Cotto -- whose résumé was beyond reproach -- that the Puerto Rican was no longer the favorite in the court of public opinion.
Foreman answered, We'll see Saturday night.
We did indeed. And the résumé theory held true.
Foreman fought a better grade of athlete than he had previously, maybe two steps better. Team Foreman, like seemingly everyone else, gave Cotto the Mark Twain treatment heading in to the tussle, exaggerating his demise. But we saw from minute one that Cotto's legs were bouncy, he held the weight at 154 well, and his punches had snap.

Ref Arthur Mercante Jr. saw enough 40 seconds into the ninth, as a left hook to the body shifted Foreman's internal organs to an excruciating degree.
This was no Daniel Santos, the man Foreman had wrested the title from last November. Even if wars with Antonio Margarito and Manny Pacquiao have sapped some vitality from Cotto, he's still a formidable pugilist, in the pound-for-pound top 15.

Cotto rises to 35-2, while Foreman is 28-1.

Boxing held up to its rep as the theater of the unexpected, when Foreman trainer Joe Grier threw in the towel in the eighth, sensing that his fighter's right knee was in bad shape after he'd slipped on the wet canvas. But Mercante disregarded the towel, believing that Foreman was in decent shape to continue, and said after that he didn't know who had thrown in the white flag of surrender.

"It was a lot of pain, it was very sharp," Foreman, 29, said of the balky knee. "I didn't want it to stop, I wanted it to continue. I'm a world champion, now a former world champion. I'm not just quitting. We need to fight."

Foreman will get the knee checked out, thinking there might be ligament damage. He said he had a similar injury as a kid in Israel but didn't have health insurance, so he never had it correctly diagnosed.

Promoter Bob Arum said if the injury is bad, Foreman will need to do rehab and will come back against sub-Cotto-level competition.
With the loss, Foreman's cred doesn't dip that much. He showed grit, fighting on a bum knee, and started to trade with Cotto when the Puerto Rican's power shots sapped his ability to keep up the constant movement. From the opening bell, the 29-year-old Cotto's power edge stood out. His jab buzzed the Brooklyner, and his counter left hooks had Foreman fighting to keep his equilibrium several times.

Foreman's best round was the fourth; he appeared to be getting his range. But though he made Cotto miss, he didn't make the now-four-time-titlist pay. Foreman's movement was too often without purpose. His jab needed to be an offensive weapon, as the rest of his arsenal won't make anyone cringe in fear, let along Cotto, who's faced men with chainsaws for fists and kept coming forward.

Cotto, after the ludicrous delay for the "mystery towel" incident, finished the job with a left hook to the body. The loser -- who said after, "Thank God for keeping us both healthy, more or less," winning points for perspective -- needed to be busier to convince the judges that his brand of boxing was better. But it was Cotto who had the volume edge 115-329 to 71-281, and no judge had Foreman winning more than two rounds.
Foreman can take solace in the knowledge that he is not likely to hear the "Yuri Boreman" slam in the near future, seeing as how he stood in the pocket late in the game, and was in it to win it. And he will forever by associated with the strange scenario at the Stadium, Towelgate In The Bronx; there was nothing boring in that bizarre eighth-round interlude.
See Also :
Miguel Cotto stops Yuri Foreman in nine